On Monday I aced my latest exam (English literature) and I finally made it back home. Dear Lord, how I missed... my air conditioner! Oh, yeah, and my family too... No kidding, Rome is a hot hot city. I had a fan in my room, but it just moved warm air. Resting at night had become impossible due to the suffocating temperature. And studying was no easier task. So, yeah, it's good to be back.
Last night I finished reading 'Wuthering Heights' by Emily Bronte. I'm still processing it, so I can't express an opinion right now, but I love the following excerpt:
"I cannot express it; but surely you and everybody have a notion that there is, or should be an existence of yours beyond you. What were the use of creation if I were entirely contained here? My great miseries in this world have been Heathcliff's miseries, and I watched and felt each from the beginning; my great thought in living is himself. If all else perished, and he remained, I should still continue to be; and if all else remained, and he were annihilated, the Universe would turn to a mighty stranger: I should not seem a part of it. My love for Linton is like the foliage in the woods. Time will change it, I'm well aware, as winter changes the trees - my love for Heathcliff resembles the eternal rocks beneath - a source of little visible delight, but necessary. I am Heathcliff - he's always, always in my mind - not as a pleasure, any more than I am always a pleasure to myself - but as my own being."
Next on my reading list: 'The Idiot', by Fedor Dostoevskij.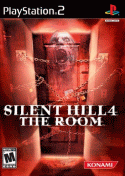 I dusted off my good old PS2 and I'm currently playing and enjoying
Silent Hill 4: The Room
. This is my first SH game, so I don't really care whether it's somehow inferior than previous chapters (which I believe is the reason why it didn't receive stellar reviews at the time it came out). So far the gory atmosphere and the cinematic style made it pretty compelling to me.